As you get older, finding the right gift for someone seems to get more challenging doesn't it? That is why I have taken the time to gather some items that I think will fit anyones personal style and wish list. They are neutral while at the same time bold enough to make someone's day. They are also perfect for the host of a party (as they are all targeted towards making your home decor happier). I hope you agree with my choices and I more so hope that I am able to take some of the pressure off your Holiday season!
If you or a friend is needing their home revamped, choose from any of the items below to kick start the season off right! Just click the image to shop.
1. Gilded Monogram DOF Glass
These glasses are a perfect gift for anyone because they can be personalized based on their initials. They not only blend with the holiday flare but can also transition throughout the year as seasons come and go. An added bonus, they look stellar on open shelving or in a display case!
2. Wood Marble Two-Tier Server
This Appetizer stand is the perfect piece for the holiday season. With marble trays and wood accents, this piece is the perfect modern display for your holiday treats. Take the sugar cookies off and replace them with assorted fruits and cheeses and you have a piece that can be used any time of the year. Functionality and convenience are key when giving gifts this Holiday Season!
3. Acadia Taper Holder

I don't know about you, but I love a good candle stick. Adding gold accents throughout my home really makes the rest of my Christmas decor pop and these are the perfect candle sticks just for that reason. Positioned on a hutch, a coffee table, or a mantle and you have instantly upped the luxury and comfort factor all at once. I mean what person doesn't love the flickering of a lit candle?
4. Mirror Trays

A good tray is often hard to find. One that not only matches most home's decor, but also one that is within reason when it comes to price. These trays offer enough flare without going over board. Offering different sizes, these trays can be the perfect added touch to anyones coffee table. Buy multiple sizes and gift them all. (Or keep one for yourself!)
5. Mist Candle
Now I now I already noted a candle item above, but what home isn't filled with candles around the holidays? I love this particular candle not only because I love the scent, but also because I love how simplistic the container is. You can never go wrong with white (in my opinion). I also adore Peacock Alley and trust any product they produce. So grab these quick. They're a must have!
6. Stow Brushed Alpaca Throw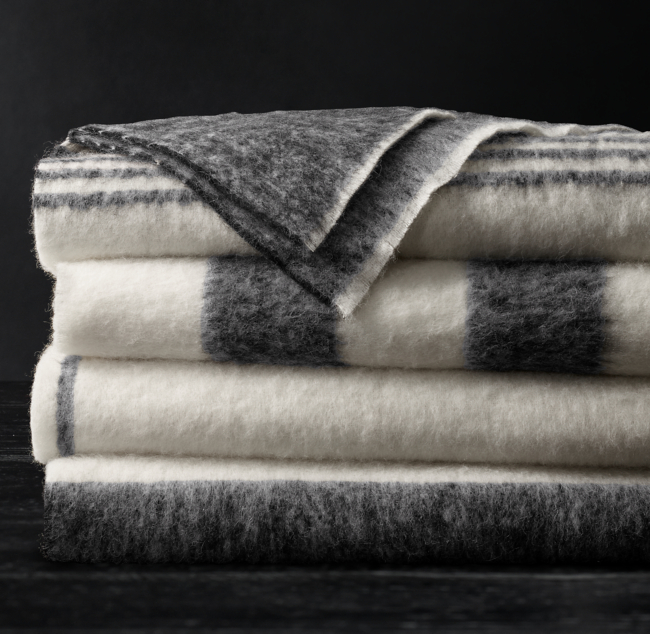 My last but not least gift suggestion is this cozy throw from Restoration Hardware. This pattern is the perfect added touch to your holiday decor and no one can turn down a blanket this plush when it is freezing cold outside. I know for myself, there are only two people occupying my home and we have about eight throw blankets. Like I said, you can never have enough!
Have any must have gift suggestions that I missed? Tell me what they are. I would love to hear your suggestions!
XOXO,
Michelle Lynne