Are you getting a tax refund this year and wondering how to spend it wisely? Yes, a vacation would be great, but maybe you want something a little more tangible. How about on updating your home's decor? If that is the direction you are taking your dollars this year, and depending on how much money you are getting returned, here are a few suggestions:
Paint your kitchen cabinets a color.  And if you're saying "…but everybody has a WHITE kitchen these days" then I encourage you to do something different and dance the beat of your own drum. This client did – and we chose a bold black to make a statement. It's gorgeous.
Purchase a statement piece of furniture. These Caracole brand chairs we used in #ProjectTulip really make an impact when you walk into the room.
We are pretty smitten with these Eliot chairs from ZGallerie: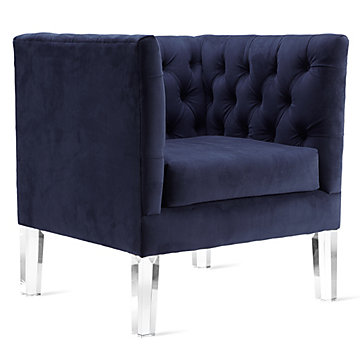 It does not have to be a brand new piece of furniture, you can always reupholster something you already have in a beautiful patterned fabric like we did in this M-Streets project kitchen dining area:
Of course, I'm always a fan of finding comfort. Most people spend a lot of time on their couch, so HERE are a few tips for selecting a new sofa.
It's also time to start thinking about outdoor living areas. You don't have to break the bank with this project. You would be surprised at the availability of outdoor furniture solutions you can find at the big box stores.
And of course, a good coat of paint is one of my favorite ways to change up the feel of the house. Not sure what color to select? Read THIS.
Finally, I love to update lighting. These kitchen pendants are smashing. You can find some great kitchen pendant chandeliers at Lamps Plus and install them in a jiffy.
All of these suggestions will be something that you will be able to enjoy for years to come, and some can even add value to your home! What are some of the fun ways you have spent your money (tax refund or not) on decor when you just wanted a little freshening up? I'd love to hear in the comments below!
XOXO,
Michelle Lynne
P.S. I am also on Facebook, Instagram, Pinterest, and Houzz – where you will find more images that don't always make the blog or the website.
XOXO,
Michelle Lynne