The Story
Every homeowner wants to feel like their space is a reflection of their character in a way that is inviting, and creating that atmosphere in a house that already required some reworking is no easy task. This family had just moved to Texas and purchased a basic builder home with "blah" white walls that were far from their desired modern coastal design aesthetic. Their new abode had zero personality, a complete lack of function, and didn't represent their easy-going personalities at all. ML Interiors Group sought to make this bland interior a thing of the past!

Considering the lifestyle of this bustling family was a must - and when you move a family of four (plus a sweet pup named Sailor) from Maine to California to Texas, you have to be flexible. With two teens involved in a variety of sports, a dog who is an integral part of the family, and a penchant for entertaining, this couple knew they needed a comfortable environment for hosting that was also livable and stress-free. Having moved from coast to coast, they appreciated that easy, breezy, oceanside culture. They imagined bringing that peacefulness into their home in Texas. And we said, "OH YES, WE CAN."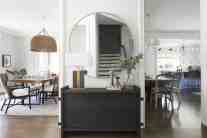 The Goals
Our goals weren't just aesthetic though. The new build production home's cookie cutter layout wasn't going to cut it - so we had some major changes to make. On the list:
Reconfigure the floor plan to incorporate multiple seating areas for their family of four (think schoolwork, parties, game nights, hosted dinners, etc.)
Fill the space with performance fabric upholstered furniture in various textures and patterns… to hide stains from busy teens, muddy paws, (lookin' at you, Sailor), and keep the adults covered when (not if) they spill wine on their light-colored sofas
Blend together the family's love for the beach with tribal aspects from their travels… add some industrial touches for a contemporary vibe… and infuse the warmth of living in the heart of Texas.
Ready to see how it all turned out?
The Entryway
This project home had the necessary structure to support this family, but not the right layout to promote natural flow from room to room. One of the first adjustments was to alternate the formal living room and dining room spaces. This switch made the initial viewing of the home upon entering that much more practical, with the less "formal" spaces in the house situated in the heart of the home. With an inclination for entertainment, each space encourages conversation and sophisticated comfort in their own way. The intention for each room's use is evident as thoughtful furniture choices, recurring shapes and textures subtly guide the purpose of the space.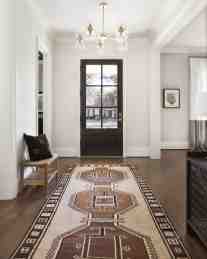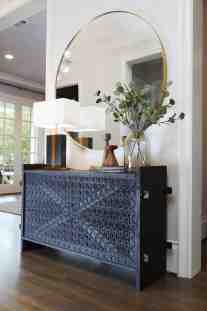 As you walk through each space with us, you'll also notice some excellent lighting choices. By carefully curating multiple layers of gorgeous lighting in each area, we were able to better define the rooms throughout the home.
Modern Coastal Dining Room and Formal Sitting Room
One of our challenges was making sure the new, and very large, dining table didn't feel out of place when we transitioned the old formal living room into the new dining room. But we definitely succeeded!

Between the absolutely stunning accent wall (with custom millwork), the oversized woven-shade chandelier (be still my heart), and the live-edge table top made from driftwood itself, there is nothing heavy about this room. The length of the table begs for a delicious seafood spread, flowing cocktails, and lively conversation. Little nods to their coastal past can be seen in the framed coral art on the walls, adding both texture and organic elements to the space. The warmth of Texas living meets the carefree lifestyle of the coasts in this dining room fit for big family gatherings.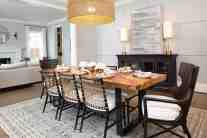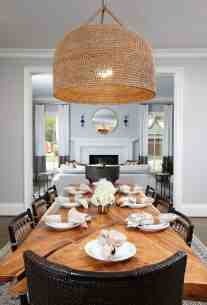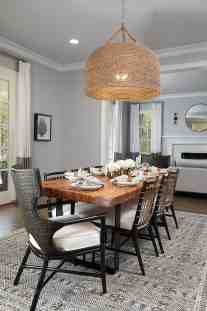 As we mentioned before, it was important that the heart of the home had an appropriate flow of energy from room to room. By adjusting the floor plan to where the dining room and formal living room locations are switched, the new sitting room could be laid out around the fireplace off the kitchen…which just made sense.

Symmetry allows the fireplace to take center stage in this formal sitting arrangement with soft leather upholstery and light linen-blend curtains flanking the marble surround. This heart-of-the-home in the heart of Texas is beachy, welcoming, modern, and perfect for hosting!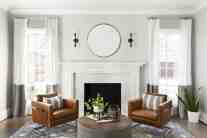 A Bright & Fresh Kitchen
The kitchen design alone could have one entire post dedicated to it. Between the color palette that transports you to a sandy beach with rolling waves, the woven textured window treatments, the water-droplet-shaped pendant lighting, and the warm wooden floors and leather chairs - really, what's not to love?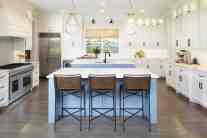 Double quartz countertop islands surrounded by ample counter space provide the perfect setting for hosting, while the encaustic cement tile backsplash above the 6-burner stovetop oven adds a subtle focal point to the space.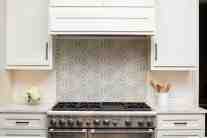 Modern Coastal Living Room Design
Ahhh… now that's better than a boxy white room!! Touches of coastal materials, tribal patterns, farmhouse-esque shiplap, and modern lighting are the instruments in this masterful modern coastal design symphony! It feels warm, fresh, social, and as welcoming as a hug. A Texas hug, mind you.

We painted the walls in Benjamin Moore's 1472 Silver Chain, which was darker and more gray in hue than the original Alabaster white (sometimes too white can be a bad thing). Instead, this hue livened up the space and made it feel cool, crisp, and coastal.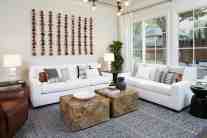 The unique 3-dimensional wood sculpture that we hung above the white sofa (in performance fabric… good luck, wine!) steals the show… but also blends flawlessly with the rest of the natural decor in the living room. From the leather chair to the wooden coffee tables to the plant in the corner, the organic nature of this space oozes cozy comfort and beach lifestyle, while also remaining chic, sophisticated, and down-right stunning. Love, love, love.
A shared fireplace between this space and the next was refinished with a very light shiplap and dark gray frame that complements the wall color throughout the downstairs. By mixing textures in each space, adding metal, wood, glass, etc., we were able to infuse dimension and interest into this once builder basic home. And just looking at these photos…well, it is living proof that neutral doesn't have to be boring. In fact, neutral colors can make big, bold, beautiful statements!
Modern Coastal Entertaining Area
Remember that two-sided fireplace we mentioned? Bet you didn't know the other side looked this good. With seating for four, this conversation-style layout is ideal for hosting those small gatherings… or even catching up as a family with a glass of Texas sweet tea at the end of a long day.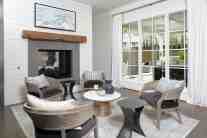 Once again, the rooms intended for lounging and respite are filled with furniture that is solid in appearance and thick with comfort, with couches and chairs cushioned for hour-long conversations and sturdy coffee tables to add convenient aid of beverages, books, and accessories.

Notice the modern coastal artwork, real wood mantle, and woven chairs reminiscent of seating you'd find on the balcony of the luxury beachside resorts we've all been dreaming about these days…
Modern Coastal Outdoor Living Area
Ahhh… couldn't you spend all day out here?? The gorgeous color palette from inside flows from the front porch to the back patio and beyond, creating a cohesive space for entertaining (complete with more performance fabric, of course!).

Natural light is posed as an element of design to counteract the darker colors, making each space feel balanced because of this contrast. Performance fabrics chosen to withstand time paired with predominant neutral colors of gray, white, black, and brown with a touch of blue elevate this home to a place where alleviation and belonging abound.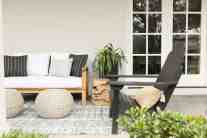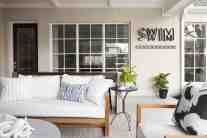 Plus, with the "SWIM" decor in the background and a basketball hoop hiding just out of frame, you're reminded that this fabulously fresh home is also family-friendly. Livable luxury at its finest. With so many incredible elements incorporated within this design, it's no wonder that Project Southcrest stands out as a favorite!
Modern and Comfy Bedrooms for All
This feeling of ease and contentment continues into the bedrooms as personality and balance are considered to fit each family member's needs. Symmetry is present in each bedroom design to emphasize the balance mentioned previously - from the dual nightstands and hanging sphere lights on either side of the first bedroom (peep the subtle bits of gold hardware for that added touch of sophistication), to the deep navy blue paneling and reading chair visible in the second bedroom.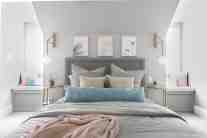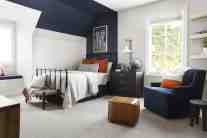 The extra bedroom holds down the coastal vibe through the use of textures, accessories, and simple color palette - creating an environment that would make any guest feel welcome. Lastly, the brightly lit master bedroom design transformed the challenge of height into a badass bonus feature - where wood-paneling and a wooden beam were thoughtfully utilized to elongate the space, and a stunning chandelier acts as a focal point that draws the gaze up.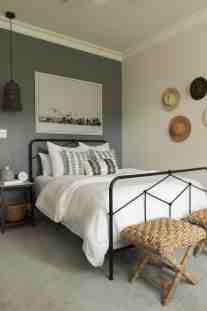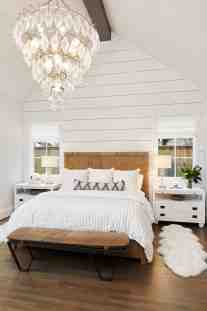 Bonus - Game Room and Media Room
This family was so pleased with the outcome of the interior design downstairs, that the magic just had to continue upstairs!
Clever personalization in the game room with a cheeky hand painted wall mural and nods of classic game-play create the perfect atmosphere for fun memories to be built. Furniture pieces specifically selected for their "weightless" appearance give the space a light airy feel, which also lends to the natural light bursting through the windows.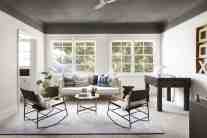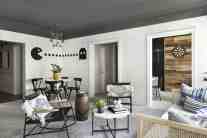 The media room adjacent leaves the impression that home movies are superior - again, designed with pleasing symmetry and warm tones to urge reclination. With plenty of storage and wine fridge built-in, the next movie night is sure to be epic - all that's needed is the popcorn!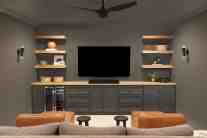 The Joyful Result
Our easygoing homeowners couldn't have been happier. We did away with their cookie cutter production home and created a sophisticated sanctuary that is a complete reflection of their lives, their travels, and their personalities.

Though each room is suited for its intended purpose, design choices that radiate throughout the home include various earthy textures such as cane, rope, rattan, and wicker. This texture is even visible in the art and accessories chosen to decorate the house, adding an additional hint to the client's coastal history. Reclaimed wood, leather furnishings, and rich tones create a sense of warmth and poise wherever placed. Bits of industrial seating and light fixtures act as a seamless bridge to the more Aztec stylings quietly woven throughout the design.

Organic, carefree, comfortable, and livable; these newly-designed spaces embody everything the family hoped for, but never dreamed possible in a home. Now, they walk through that front door, take a deep breath, and breathe out a sigh of relief. Complete bliss, pride, and contentment. After all, that is how a home should feel, right?!

If you're ready to take that leap and transform your home into a relaxing retreat, give us a call. We would be delighted to turn your uninspired house into an awe-inspiring home.
See additional images on Instagram: #ProjectSouthcrest