Calling all designers who are FED UP with working out of their homes - as the following article details, having a designated space that is solely meant for your design genius to flourish will not only benefit you in the long run, but save you from pulling out your hair as well.
However! Take this as a fair warning: after diving into this post, there's a fair chance you will end up feeling a bit more jealous than before. But the good news? Not only is there a place for you at Studio Works, but plenty of amenities and perks to make the transition that much easier (and a heck of a lot more exciting!).
Read on to learn how ML Interiors Group has benefitted from having Studio Works in Addison, TX as their home base for all things interior design.
1. Examine Your Storage Needs
Before moving into Studio Works, Michelle (CEO and Founder of MLIG) knew that she and her team had built quite the collection of materials and samples over the years, and knew for certain that the new space would need to accommodate that massive accumulation. The library of resources provided not only come in a variety of shapes and sizes, but by their very nature are visually chaotic. With that fact in mind, IKEA storage shelves were selected not only for their customizable layout, but also for their simple aesthetic so as not to clash with the very things they were meant to house. With ample shelving for sample books, rods to hang special materials, and just enough storage bins to fit any additional loose fabrics and textiles - what was once a disorderly mishmash is now an organized archive of design inspiration!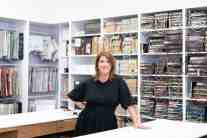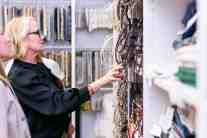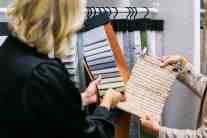 2. Prioritize Presentation Space and Maximize Layout
Working with finishes and laying out samples is a daily part of a designer's workday - which means that sufficient space is needed to not only handle the cumbersome nature of some of the sample materials themselves, but also enough surface area to layout and compare multiple options, or multiple options for multiple projects going on at one time! To support the needs of the team at MLIG and fellow designers, two large storage islands have been pivotal to the way the users can work together creatively. Not only are the white marbled quartz countertops sturdy, but they act as the perfect neutral worktop to spread out and separate when necessary. With extra drawers for storage and wooden stools to accompany this set, the Studio Works Resource Library leaves little to be desired.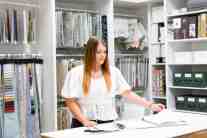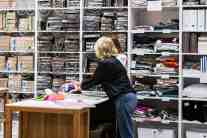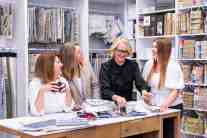 3. Location, Location, Location
Studio Works is a co-working space for the design community located in Addison, TX. With a footprint large enough to fit ML Interiors Group, 7 private offices (2 of which are already occupied by a couple of amazing designers), a resource room, zoom room, conference room, kitchen AND kitchenette, and your standard bathrooms/storage closets - it's no wonder Michelle saw potential for this space to satisfy her vision. Accessibility also played an important role in finding a space suitable for the intention - as easy access off of the Dallas North Tollway makes hitting the straightaway a breeze. Not to mention, the community Studio Works has been adopted into, as the surrounding area boasts coffee shops, restaurants, and other retail spaces as the foundation for numerous apartments - all walkable under the shade of tall trees scattered throughout. Addison Circle Park offers natural escapes for ingenuity to strike, and plenty of access points for public transportation and individual parking.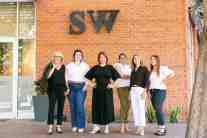 4. Optimize Natural Light Where You Can
The quality and control of natural light is very important when considering the layout of a design office. Ideally, every space utilized would have exposure to some form of natural light - but as unfortunately this isn't always an option, it's imperative to optimize the use of natural light wherever possible. Nearly every private office includes large floor-to-ceiling windows, as well as a wall of windows in the coworking lounge overlooking the green spaces outside. Where natural light is less accessible, ambient overhead lighting creates a cozy work environment and bright fluorescents illuminate the work spaces where color and texture are analyzed for designs. And should that natural light be a wee bit too piercing for those "adult headaches" after a night out, Studio Works has mechanical drop-down shades to protect you from the sometimes unforgiving rays in the Texas heat.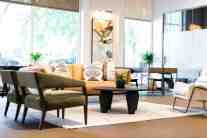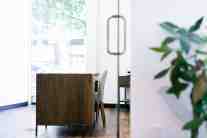 5. Neutral Atmospheres Offer Clear Perception
Being an interior designer means being constantly bombarded with the surplus of colorful patterns and textures that exist in the world, and somehow selecting particular combinations that offer new and exciting outcomes reflective of the project and the client. That means the immediate environment and workspaces in which these designers strut their stuff should act as a blank canvas so that their creativity can flow, without distraction and free from visual pandemonium. Dark floors, white walls, and light countertop surfaces were deliberate choices when designing Studio Works - allowing design selections to be made without influence, or impact the way colors are perceived.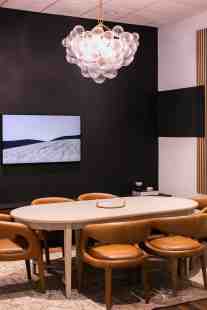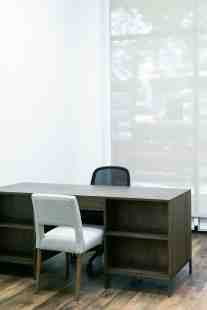 6. Allow the Space to Reflect Your Personality
As a design firm that specializes in luxury interiors, it was crucial that the atmosphere within Studio Works reflected a sophisticated energy reminiscent of high-end retail spaces with a touch of natural elements. Hence, fun pockets of whimsy seen in the Zoom Room and bathrooms, and greenery sprinkled throughout.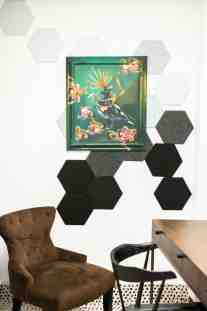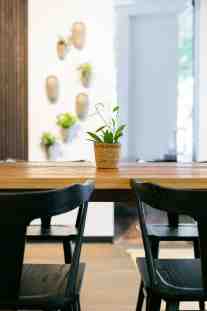 Comfortable seating and simplistic accessories were also a must to provide a peaceful surroundings for the community this co-working space serves, keeping occupants' sense of ease at the top of mind.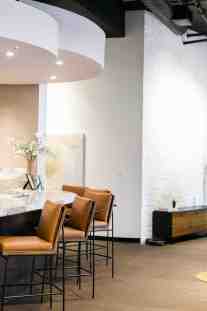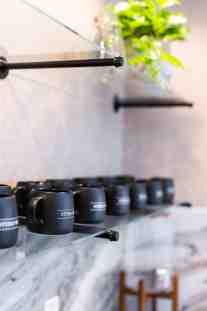 As you can see, the essentials for an inspiring and inviting interior design studio have been met and matched with Studio Works in Addison Circle. Now the only thing left to make this space complete? You of course! Come join ML Interiors Group and other incredible interior designers within the community at this trendy co-working space fit for Creatives of ALL kinds - "We'll keep the light on for ya'!"

Ready to invest in your work space and peace of mind? Check out the Studio Works website or give us a call, we look forward to hearing from you.