The recent Frisco winter snowstorm left us with a new appreciation for our "normal" Texas winters (and a whole lot of doom and gloom scattered around the exterior of our homes). What's the bright side here? Mother Nature has officially granted you permission to go for it- it's time to design the outdoor living space you have always wanted to complete your luxury home. After all, recent events have clearly proven that the real parties happen outside.

Flashback...
As you're looking out the window, watching the beautiful, crisp white snow hit the ground, your first thought might have been, "Surely this isn't going to stick," and then maybe, "It's mid-February, how much longer can this snow last?" Mother Nature answered with a fierce layer of ice around the Frisco area and more honestly, probably more ice than most of us have ever seen at once, or ever care to see again.
During a time when outdoor spaces are a must, there wasn't much of a silver lining in sight… until now. NOW is your chance to create a functional and beautiful outdoor space for relaxation, fun gatherings, hosting, and entertaining with style and intention. But where do you start? What do you need to consider? Read on to learn more about what we consider when designing luxury outdoor spaces for our clients in Frisco, Texas and throughout the Dallas-Ft. Worth metroplex.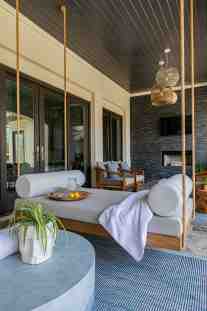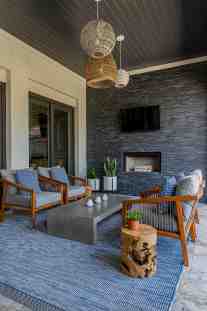 Consider Indoor and Outdoor Connection

The design of your outdoor space is just as important as the design of your home interior. The style of your outdoor living space should complement the design style of your luxury home interior AND architecture, in order to create a feeling of continuity between the interiors and exteriors.
In addition, and well before selecting styles and color, it's important to consider the functional needs of your outdoor spaces to achieve the goals of these areas. What's the intended use for your outdoor space? What activities do you, family members, and/or your guests enjoy the most? Is this space meant to entertain or be a place for rest and relaxation, or both? The way you intend to spend your time in your outdoor space, will guide the design. You'll begin to better understand your needs and overall, have more clarity (and who doesn't LOVE clarity? This team certainly does!).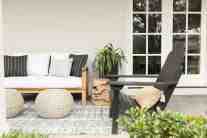 Establish the Goals of Your Space
Our firm creates beautiful outdoor living spaces for homes all over the Frisco, Texas and north Dallas areas - from large estate homes, to lake homes, and everything in between. Each home has beautiful, one-of-a-kind potential, and it's our job to discover it and bring it to life for our clients.
Frisco luxury homes offer all sorts of exciting ideas for creating outdoor spaces. The challenge is creating effective and efficient use of space. It's important to first designate living areas, or zones, to achieve the goals of your space. Once you do, the opportunities are endless. Build-in a cozy fireplace or a fire pit - outdoor living is made more special near the glowing ambiance of a fire. Bring the kitchen outdoors with a professional outdoor cooking space. Add bar style seating to create a gathering space, bring in the house chef's selected outdoor kitchen appliances, and watch the joy ensue!
For those that have a little extra space, freestanding retreats are popping up in many backyards. This type of "patio" is nice because it's separated from the home and gives off the feeling that you're truly on vacation! Design a pool that aligns to your home and achieves your family's goals of rest, relaxation and activity. Lastly, with the right landscape design, you can create an outdoor oasis that is full of natural foliage to promote relaxation.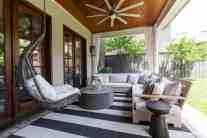 For Luxury Lake Living
There's something so tranquil and soothing about a lake house. Perhaps it's the peaceful sounds of lake water and nature just feet away from your own front door, or maybe it's the nostalgic memories of summer days spent by the lake with family and friends. Whatever that feeling is for you, the lake is an ideal focal point for any outdoor design. A large screened-in porch (with retractable screens) paired with outdoor dining allows ample room for lounging and entertaining. Multiple-level decks allow additional vantage points of the lake as well as more livable areas to enjoy, and of course a chef-inspired outdoor kitchen helps you soak up all those lovely summer nights over delicious food and conversation.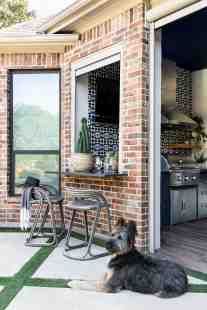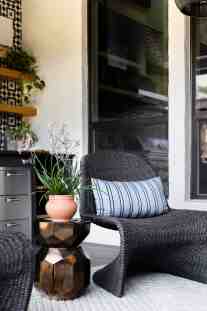 … And Finally, Decorating

Yes, now you get to put the icing on the cake. Making selections for windows, lighting, furniture, flooring, appliances, foliage, and accessories are the finishing touches that everyone looks forward to. This is when you get to put your own personal stamp on the project. And of course, there's the whole shopping component. Who doesn't look forward to that part of a design?!

Putting all of these pieces into motion is when the magic starts to happen. But, it can get a little overwhelming. If the thought of pulling all of these thoughts together feels a bit mind-boggling, enlist the help of a professional in your local area. We are here to help.

We've designed homes all over the Frisco area, including Newman Village, in addition to the great DFW metroplex. We believe that your house should reflect your style, make your life easier, and become the perfect backdrop for your family's memories.

If you're ready to take action on your new outdoor space, give us a call. We would love to help you reimagine your space, design a beautiful outdoor environment, and set the stage for happy gatherings and fond memories for years to come.

XOXO,

Michelle Lynne
Are you ready for the outdoor space of your dreams? Connect with us below - 
Let's Chat!