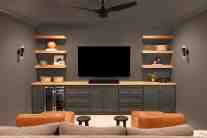 If your family is anything like ours, the living room is the hub of the home...that and the kitchen, of course. (But since we have an open concept floor plan, these are basically one and the same.)
Considering so many of us are still working from home, schooling from home, and living at home, this should come as no surprise. In such close quarters, doesn't it just make sense that everyone would congregate in the comfiest room of the home?! I sure think so.
Which means that now, more than ever, the lighting in your living room is absolutely crucial. If it is too dim, everyone is straining their eyes. If it is too bright, the family is vying for the best seat in the room to avoid glares. And if you don't have the right combination of lighting, the room simply won't function as well as it could.
This is where today's topic comes in:
the importance of a variety of lighting in your living room
how to select the best combination for your space
Come take a look and prepare for some lightbulb moments, my friends. ;)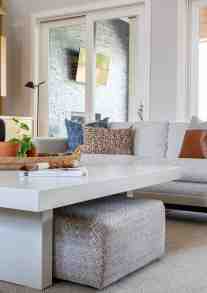 Step #1: Determine the Function of Your Living Room
This might sound like a no-brainer. I mean, isn't the living room for relaxing? Does it really need a defined purpose?
My response: Yes! Given our current at-home lifestyles, each room of the home plays multiple roles. You most certainly need to define the desired function of your living room.
Relaxation can be one component. But consider these questions as well:
Are your children schooling (even for a portion of the day) from the living room?
Do they do homework in that space?
Are you a prolific nighttime reader, either for leisure or for your job?
Do you plan to entertain in the space (when we're allowed to do that again)?
Do you ever use the living room as an extension of your dining area?
Are there family hobbies (TV watching, game nights, etc.) that happen in the living room?
Each of these scenarios calls for a different combination of ideal lighting to maximize the enjoyment and utility of your all-important living room (or family room...whatever you want to call it).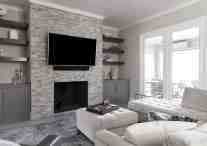 Step #2: Begin with Your Available Natural Lighting
With the purpose of your living room defined, now is the time to get to work layering in the lighting necessary for your space. I always begin with the available natural lighting. Regardless of what direction your living room faces, it is important to factor this in first.
In order to fully understand the amount of natural light available to you, start by washing your windows inside and out. I know, I know...this sounds like an unnecessary pain the butt. But believe me, it makes a huge difference! It is like washing your face at the end of the day when you know you have too much makeup on...a good wash provides a beautiful clean palette.
(And hey, while we're on the topic, you really should wash the outside of your windows twice a year, and the inside of your windows at least once per year...it's just best practice. You can thank me later…)
Once you have a clear view (see what I did there?) of the natural lighting available in your living room, the next order of business is arranging your furniture accordingly. You don't want a high-backed chair to block any of that precious sunlight, or the couch turned away from the freshly-washed windows. I suggest placing your sofa perpendicular to the largest window (like the photo above). This allows indirect natural light to flood and illuminate the space during the daylight hours.
Of course, if you're not sure how to best rearrange your furniture, you may know a designer who would be happy to help. Hint, hint... ;)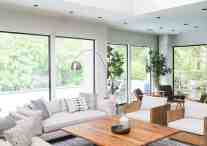 Step #3: Take a Look at Your Overhead Lighting
There are two types of overhead living room lighting that we encounter time and time again, each with its own quirks and nuances…
Recessed Can Lights in the Living Room
The most common of all overhead living room lighting, recessed can lights aren't necessarily beautiful, but they are functional and highly recommended. These are just as important when you're watching television (since you don't want a glare from table lamps obstructing your view) as they are for entertaining.
No matter the main use of your can lights in the living room, however, you'll want them on a dimmer. Full light is perfect for schooling hours at home. Ambient (or dimmer) light is great for evenings of relaxation, kiddos optional. (And BTW, the can lighting in the above photo is TOO MANY - we'll be editing them in the next phase of the design...aim for every 6 - 8' or so!)
Ceiling Fan Lighting
If you live in Texas, you have a ceiling fan. That is just a non-negotiable for those sweltering summer days. But certain ceiling fan/lighting combos are more practical than others. If you have one of those combination fixtures that look like a fan that wants to be a chandelier (and probably gives off a serious 80s vibe), it's time to kick that one to the curb.
I recommend a low-profile ceiling fan with a dome light...as unobtrusive as possible, while still functional. Even better if it also has a dimming feature, which again, is helpful when you're entertaining and want to set the mood, but you still want to see people's faces. Ha!
Of course we occasionally run into living rooms with pendant lighting (rare) or chandeliers (super rare). But no matter the fixture, the fact remains that overhead lighting is critical to any fully-functional family room space.
I have mentioned this in blog posts before, but I will mention it again, because this is an important thing to remember: keep all of your lighting, whether it's recessed cans, pendants, chandeliers, or ceiling fans, no more than 6 to 7 feet apart from each other. Otherwise you'll get shadows, and no one likes those. Trust me!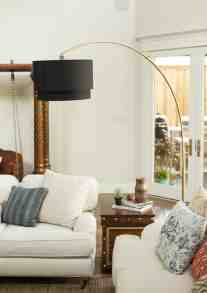 Step #4: Account for Task Lighting in Your Space
Nowadays, if you (or any one of your family members) are working from home, homeschooling, reading regularly, or even doing homework in the living room, you're going to want task lighting.
What is that, you might ask? Well, it is exactly what it sounds like...lighting for one particular task.
If you sit and knit while you're watching television, obviously you need a light to see your hands, so you might opt for a special floor lamp that comes around so you can see your hands without going blind. (Just be careful with those needles!)
Or, if you're regularly on the computer while sitting on the couch, maybe you'll choose table lamps on either side table, or behind you on the sofa table so that the blue light from your screen doesn't put as much strain on your eyes.
Make sense now? Task lighting will look different for each family...but is crucial for using your space to its full potential.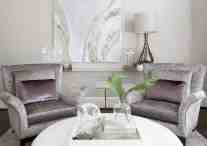 Step #5: Layer in Your Beautiful Accent Lighting
Accent lighting is less about function and more about setting the vibe of the space and providing an added aesthetic for enjoyment.
In the spaces I design, I love adding art lamps over wall art, uplighting for floor plants (which also casts a fun shadow on the ceiling, FYI), and under-cabinet lighting where appropriate. These small details really help set the mood of the room and provide visual interest throughout the space.
Last, But Not Least... Let's Talk Variety of Living Room Lighting
By this point, you know that you need many different types of lighting in your living room. But you're probably wondering how to tie it all together. And honestly, this can be the tricky part, because you want everything to coordinate and create interest...but you most certainly don't want them to be matchy-matchy.
Think of your light fixtures as cousins...not twin sisters. They are related, but not identical. (More on this in our previous post - from entryway to living room, how to coordinate light fixtures.)
Just like your light fixtures are going to have different jobs (overhead lighting prevents glares on the tv...task lighting allows you to read easily...accent lighting adds visual interest...etc.), light fixtures should also have different finishes.
Select a variety of metals. Natural black, hand-rubbed bronze, antique copper...you get my drift.
Choose a variety of textures. Paper or canvas or fabric lamp shades, frosted glass or art glass globes...the list goes on.
Finish them with a variety of light bulbs. Daylight, warm white, cool white...although personally I always think we look better in candlelight...so I tend to opt for the bulbs with a warm glow.
Whatever combination you choose, make sure the fixtures are talking to each other, painting a cohesive picture that is visually interesting.
Unless the sole function of your living room is for drinking wine (no judgment here), you'll need a combination of lighting that sets the mood, maximizes functionality, and provides the perfect backdrop for your family's daily life.
But if you don't want to tackle the lighting task on your own...you don't have to! Our team would love to create a lighting design that allows you to work, play, and relax in the hub of your home...the living room! Just give us a call...we can't wait to curate an interesting yet functional collection of lighting that illuminates your life.
OH – and if you're looking to upgrade the lighting in your open concept kitchen as well, you can download our Guide to Prepping for a Kitchen Remodel here.
XOXO,
Michelle Lynne
Ready for our team of experts to shine a light on the best design options? Connect with us below - 
Let's Chat!