As hot as it has been in the DFW area lately, it's no wonder we're all daydreaming about those blissful days on a sunny coast. I mean really, who wouldn't want to be tanning seaside on a distant tropical island somewhere?

Well, until you can whisk yourself away to the land of sunscreen and piña coladas - here are a few tips to elevate your "island" at home (kitchen island, that is!).
Understanding the Basics
Kitchen islands have become the centerpiece of modern kitchens, acting as both functional units and aesthetically appealing additions. That being said, the lighting over these kitchen islands can dramatically impact the overall look and feel of your kitchen, so it pays to be a little selective when highlighting the area.

An island is often a social hub for gatherings, and illuminating it correctly can make the space feel all the more inviting. During the brainstorming phase of considering lighting options, it is beneficial to examine the needs of the space first, with the desired style to follow. Beyond just illuminating the workspace, kitchen island lighting contributes significantly to the overall style of your kitchen. Your chosen fixtures should provide the right amount of light for cooking and dining, while also enhancing the visual appearance of your space.

Choosing the right kitchen island lighting requires a fine balance of aesthetics, functionality, and scale - a balance you will be able to implement like a pro by the time you finish reading these guidelines!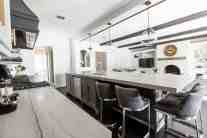 Essential Factors
So, where to begin? When selecting kitchen island lighting, it is important to consider the four most essential factors; size, placement, material, and purpose. These factors will make the selection process that much easier as a starting point, preventing the dread and overwhelm that comes with the overabundance of choices out there.
Size - Not only should you consider the size of the lighting you would like above your kitchen island, but the size of the island itself. The size of your kitchen island plays a significant role in determining the appropriate lighting, whether you opt for recessed lighting or something slightly elevated. The goal is for there to be equal dimensions on all sides of the light fixture - regardless of the fixture selected for the space. The size and scale of the lighting that you select depends on the amount of space you have, and whether you plan to display the lighting as a statement piece. To decide, factor in what kind of impact you want the lighting to have within the room design itself. Large or colorful fixtures can make a design statement, provide a focal point, and help delineate the island from the rest of the kitchen. Whereas, smaller fixtures are more subtle and tend to blend in with the rest of the design, allowing for focus elsewhere.
Pro Tip: Ceiling height should also be factored into your lighting selection. A higher ceiling will allow for larger, more dramatic lighting fixtures, while lower ceilings may require more streamlined, less intrusive options.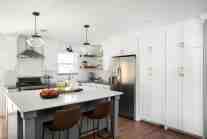 Placement - A good "rule of thumb" would be to allow for at least 6-12 inches on each side between the end of the island and the fixture, at least 24-30 inches between each fixture, and centering the lights at least 30-36 inches above the island countertop (if utilizing pendant lights) to maintain proper scale. When it comes to pendant lighting styles, ceiling height should once again be considered to account for people standing around or sitting at the kitchen island (who wants to be staring directly into a bulb? Not me!). The total measurement from the floor to the bottom of your pendant light fixture should measure no less than 65-72 inches, ideally.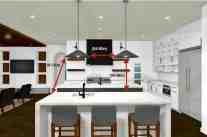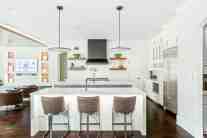 Material - When selecting the material for your kitchen lighting (again, assuming we have not selected recessed lighting), consider what you will be utilizing the light for most. Ambient lighting creates a soft atmosphere and warmth to the space - so glass or a light fabric will be your best option. Glass can appear very clean and elegant, but this material can also sometimes be very expensive - it all just depends on your budget and preference. (And if you're REALLY looking ahead, you might consider the efforts required in order to clean the lighting as well). Fabric may not be as sturdy, but can make your kitchen feel homey and inviting - and they're usually less expensive than glass!

If you require more task lighting for functional purposes, then selecting a fixture with a metal or ceramic shade is your best bet. Metal is the most popular material for pendant lighting because they are versatile in their pairing, and can withstand many years of use. Plastic is most likely the least expensive option compared to the material mentioned previously, and can give you that modern look without breaking the bank. Wood and shell pendant lights can be a unique alternative selection for when you want to bring more natural textures into your kitchen island design.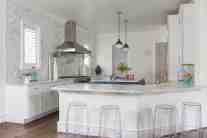 Purpose - Finally, remember your "why." Why am I adding kitchen island lighting in the first place? Is it to have all-purpose illumination, specific task-lighting, lighting accents, or simply to complete the entirety of the design? With so many options available, it is easy to lose your initial purpose - and while certain fixtures are better suited for specific lighting needs, as you can see illustrated in the pictures from the brilliant designs by ML Interiors Group - pendants are a crowd favorite. Pendants can do it all, as they can provide brilliant illumination as well as make a bold design statement. They can define a room's focal point, direct light down toward prep surfaces, and highlight a contrasting color or finish, all while contributing to the kitchen's overall brightness and aesthetic design.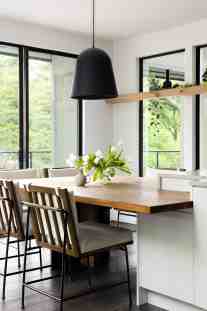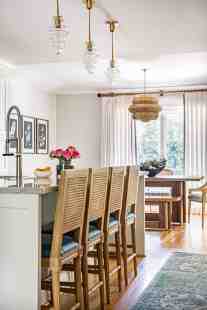 Conclusion
Choosing the perfect kitchen island lighting involves a myriad of factors, but with careful consideration and planning, you can achieve a harmonious balance of functionality and aesthetics. By thoughtfully accounting for the size of your island, the height of your ceilings, and the style and material of the light fixtures, and their placement, you can transform your kitchen into a truly spectacular space.

Remember that your kitchen is a reflection of your lifestyle and tastes. So whether you're an avid cook who desires the practicality of functional lighting, or the host with the most who desires ambient, decorative lighting for entertaining - there is a perfect kitchen island lighting solution out there for you.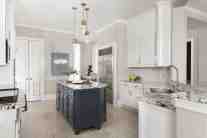 References
Always ensure to consult the guidance of lighting and design professionals. Their expertise can provide further insights, aiding in choosing the best lighting solution for your kitchen island. Give us a call - and let's work together to illuminate the kitchen of your dreams!
Let's work together!