When life came to a screeching halt last year, we were all in the same boat. We found ourselves working from home in spaces that were completely unprepared for us. And, because of that, we had to improvise.
Our kids took over the kitchen island, our spouses claimed the living room, and we ended up at the dining room table surrounded by piles of paperwork, computer cords, and a crick in our backs. Sound familiar??
Although the better part of a year has passed since that time, we've still had a lot on our plates. From working at home to schooling our kids, navigating this new normal, and doing our best to maintain some semblance of sanity...who has had the time to design a home office? For many of us... it's taken the back burner.
But... it is a new year and that means a fresh start for you and a brand new beginning in your work-from-home journey. Who's with me?!
So, today we're going to dive into how to design a home office that works just as hard as you do. Let's goooo...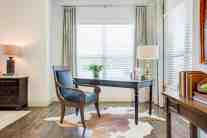 Step 1: Choose the room where you will design a home office
Alright, alright...this might be easier said than done. But before you get overwhelmed by the fact that you don't have a spare room in your house where you can design a home office, answer these few questions…
Based on the nature of your work, does the home office space need to lock?
Do you need complete privacy at every hour of the day?
Is absolute silence a requirement for you to do your work?
If you answered no to all of these questions, then you're in luck. Even if you don't have a spare room, any low-traffic area in your home can become a home office. For example, that cozy nook under the back stairwell that once felt like wasted space? Claim it! Since there isn't a lot of activity back there, it will be perfectly suited for a home office setup that is semi-private and intentionally designed.
However, if you answered yes to all of these questions, don't you worry! We will just have to get a bit more creative. So, you might not have a spare room, but any shared space in your home simply won't do either. Where do you turn?
How about that guest bedroom that only gets used a few times a year? By trading in your standard bed for a Murphy bed built into the wall that is out of sight until needed, your guest room can easily double as a home office. If you don't like the Murphy bed idea, you could even opt for a smaller profile daybed or trundle that acts as a guest room when needed (and allows you to take a quick power nap without "leaving the office" on those long, grueling days).
See, this doesn't have to be rocket science. And you definitely don't need to sell your home and purchase a larger one just to acquire some dedicated work space. A little creativity and a willingness to make your rooms into multipurpose spaces can go a long way.
Step 2: Acquire the essentials for your home office
The Desk
Before you start online shopping for a desk that catches your eye aesthetically, make a list of the features that you want it to have…
Do you need lots of drawers for storage?
Is a large work surface essential?
Do you prefer to sit, stand, or have the flexibility to do both?
If you determined that you need substantial storage and a large work surface, a stationary executive style desk is likely your best bet. Just make sure you either position it so that you're looking out the window, or have space to add a pretty picture on the wall you'll be starting at all day long.
If you have a small space and don't need much surface area, then a writing desk could be perfect for you. These are ideal for placing directly against a wall in tighter quarters. Again, just take your view into consideration.
If you want to design a home office for flexibility throughout the day, opt for a convertible standing desk that can allow you to work from a seated or standing position. And consider "floating" the desk in your space so that you can face the entry (extra ideal for parents who are simultaneously trying to work and keep an eye on the kiddos).
The Chair
While the definition of a perfect desk chair varies by person, one thing that applies to every professional is the need to invest in a great, high-quality chair. Let's be real here, you're parked in this baby for hours on end...it needs to be comfortable AND good for your health. Plus, spending more on a chair that supports you now is better than paying a chiropractor to fix your spine later. Ha. A good quality desk chair is worth every dime!
Next... chair functionality. You may be thinking, "Gee, anything is better than that static dining room chair I was sitting at." True, but there is so much more than just the movement of the chair to factor in.
Do you sit with your feet on the floor at all times? Make sure your chair is appropriately sized for your stature.
Do you sit with one leg under and one leg down? Or maybe even criss cross applesauce? Opt for a chair with extra padding so the legs tucked beneath you aren't constantly in danger of falling asleep.
Find yourself doing a combination of all the above? Look for a height adjustable chair that will allow you flexibility in positioning throughout the day.
When asked for my recommendations, I usually suggest swivel or reclining features, as well as chairs with ergonomic benefits, such as lumbar support. And I always, always, ALWAYS, remind people that rolling chairs absolutely require a chair mat to protect your floors and carpeting. This is a non-negotiable. Love your home, and it'll love you. ;)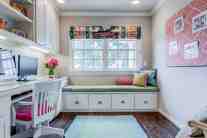 The Lighting
Before you go any further, make sure you have the electrical access you need in your space. Obviously if you're commandeering the guest bedroom, you know you have lighting options and electrical outlets. But if you're claiming that tiny, precious nook underneath the stairs, this might not be the case.
You'll need electrical for at least one hard-wired light, plus at least one outlet, but ideally more, to power your computer, printer, lamps, etc. So, if you need to get on an electrician's schedule, go make that phone call right now. We'll wait…
With that taken care of, let's talk about selecting the right lighting or combination of lighting for your space, because it isn't just about setting a mood. It also minimizes sleepiness, reduces eye strain, and negates fatigue. Lighting is a powerful tool!
Consider natural lighting, overhead lighting, task lighting, table lamps, etc. In fact, go check out our blog post about selecting living room lighting. Much of it applies to your home office as well.
The Stuff
Yep, time to talk storage, because I can't think of a single work-from-home professional who doesn't have "stuff." The best way to design a home office that keeps your mind clear and maintains productivity is making sure every single item has a designated home.
If you have a desk with built-in storage (think drawers and cabinets), you've got it made! This provides a place to hide all of those items you don't need at-the-ready, keeping your work surface clutter-free. My only encouragement here is that you invest in drawer and cabinet organizers so that your entire desk doesn't become one large dumping zone.
If your desk doesn't have storage, but you do have some extra space, consider using a sideboard or media console. Just make sure you factor in the space needed to open the drawers and doors. There is nothing worse than a good plan that is poorly executed, creating frustration later on.
If you don't have space for additional furniture and your desk doesn't include any storage, then floating shelves or even some floor space dedicated to bins, baskets, and buckets will provide a stylish storage solution. Again, just take the time to create systems that are easy to maintain so that your "stuff" remains organized and easy to locate when needed. Hello, smooth workday.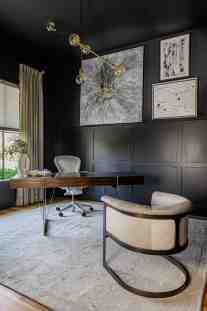 Step 3: Personalize your home office
Your furnishings are ordered, the electrical work is completed, and you're ready to start putting it all together. So what's next?
Color, of course! Before you move all of your furniture, lighting, and office essentials into the space, liven up your backdrop with a brand new coat of paint. And in a home office setting, you can't go wrong. This is a highly individual matter, so simply choose what makes you feel good. For some, this might be a bright, bold color like orange or chartreuse that is stimulating in all the right ways. For others, this might be a soft blue or light green that is calming (but doesn't lull you to sleep).
With the walls painted and the furniture moved in, now comes the really fun part...adding homey accents that reflect YOU! I'm not talking clutter. I'm talking about a throw pillow in a fun print that showcases your personality. Or a piece of framed artwork you acquired on an international adventure. Or that "best mama ever" coffee mug your kids painted you when they were little...reminding you daily of your "why" for working so dang hard!
Things like that...things that motivate you, make you smile, and keep you going, even on the toughest days — that's how you design a home office you love. ;)
When it all comes down to it, every design rule in the book doesn't matter if it's not comfortable for you. Period. So, as you design a home office space, the thoughts at the forefront of your mind should constantly be your work style, what you need to be most productive, and what will make you happy.
As long as you're self-aware and thoughtful about each of these decisions, your finished home office will work as hard as you do, providing motivation when necessary, calm on a daily basis, and a retreat from the loveable chaos that is your home.
If you're ready to take action on your New Year's resolution (of FINALLY creating a home office, of course), give us a call. We would love to help you reimagine your space, design a beautiful working environment, and set the stage for your most productive year yet.
XOXO,
Michelle Lynne