If you have kids or teens at home, the thought of maintaining your stylish and organized home has crossed your mind at least one or two million times… am I right? Finding the balance between allowing your home to be lived in and keeping the kiddos happy, without compromising the design you've worked so hard to keep, is tricky, but not impossible.
When school is out in Dallas-Ft. Worth and kids are home for the entire summer (or holiday break), it feels like there's a lot MORE chaos and a lot LESS organization at home. With the constant traffic, plus trips to the pool, the Dallas Zoo, summer camp(s), and general transportation to and from friend's houses, life is BUSY during this season of life!
While it's definitely a shift in routine having your kids home all the time, it doesn't mean you can't keep your space well-designed and organized! We're serving up our tried and true expert tips and solutions to keeping your home smart, stylish and fun, even with school-aged kids at home.
Create Dedicated Kid Zones
Kids will be kids, as in they're done with school and ready to be free for the summer. Chances are they've had enough rule-following and structure for a while, so the only thing on their radar is to let loose and have fun.
Creating a designated space in your home that is kid-friendly gives your children the freedom they need to do all of the kid things, without creating chaos around the entire house. For example, at our Dallas interior design project, Living La Vida Lokar, the library was a designated space in the home used for music lessons, playtime, and gathering with family, but was completely separate from the family living room.
It may seem simple, but for a lot of us, we're just struggling to get someone to pick their shoes up off the floor, so a dedicated space may feel like a delusion. Sure, your kids have rooms where they can have their own personal space, but an actual area outside of that gives the idea of having even more freedom to roam… so they're less likely to attempt to take over the entire home.
Whether you choose an entire room or a designated part of the house, creating a dedicated kid-friendly space helps maintain organization and contain the mess. It's all about the boundaries! And if you approach them with a "this is your very own space" instead of a "quit destroying my space" mindset, children will be more likely to get on board with your plan, instead of rebelling against your attempt to enforce any kind of structure or rules, you know how much they hate that.
Incorporating storage into this space will help keep all the games, loose parts, art supplies, and who-knows-what-else tucked away in style, while blending in with your existing design. It doesn't have to be a super complex storage system with labels and whatnot, unless that's your thing. And if labels are your jam, then by all means, DO IT! But don't stress too much about storage right now, we'll dig into specifics next.
Find Unique Storage Solutions
Storage is important, of course, but the RIGHT storage is what will really bring the organization and order. The solutions that fully cater to your family's needs are where you'll find that happy medium where style and design meets mess-free living.
There are two ways to accomplish this mission: furniture with storage space or creating your own custom designs. Choosing furniture with storage is an easy way to integrate a function piece, such as side tables with drawers or ottomans with hidden storage. If you have extra shelves, you can incorporate storage space by adding baskets.
While kid-dedicated spaces are essential, having custom storage options for kids in areas that the family regularly hangs out, like the living room or dining room, creates style in an organized manner.
For example, in our interior design project, Mockingbird Lane in Park Cities, custom storage was a must. A large scale built in cabinetry was made to house all of those small pieces that nobody wants to see (or step on), without much effort. Again, you can organize within the storage and go buckwild with labels and specifics, but it also works great on it's own with just simple baskets and bins inside.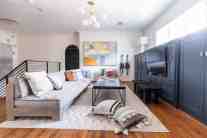 Choose Durable Furniture for Your Home
Being intentional in the furniture you choose can go a long way in maintaining a stylish home. Let's be honest, kids don't mind messes, they can throw their shoes on the ground and step over them at least 16 times before picking them up and putting them away, and even then a prompt is usually required. And, hello, snacks: kids and snaccidents go hand in hand! No matter how many times you say "please eat that in the kitchen," you're still going to find the random spill or trail of crumbs.
For example, selecting leather couches are fashionable, easy-to-clean, and long-lasting. If that's not your style, distressed furniture adds a stylish touch and will last beyond any kid-related messes.
If you prefer a lighter-colored fabric, such as white or bright blues, using kid-friendly washable covers can not only prevent permanent damage to your furniture from accidents and spills but is also easy to clean up.
One of our best examples of a smart, stylish, and fun space that embraces kid-friendly living with style, Builder Blah to Home Sweet Home, showcases white sofas integrated into the space, creating a perfect balance of neutral colors to reflect the family's aesthetics. Yes, white fabric and kids CAN work!
With the performance washable cover couches, this family's Midway Hollow Neighborhood home in Dallas now offers the flexibility for their kids to play and clean with ease. Plus, we treat all of the fabrics in every interior design project with a stain treatment. Adding this to any of your furniture will help to extend the life and beauty of your purchase.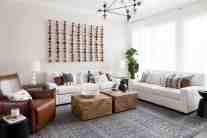 Work Together as a Team
While you may maintain the house normally by yourself, it can be a team effort during the summer. Take turns having your kids help to declutter or clean the space around the house. When you do this consistently, you'll be able to maintain the style of your home. For example, one way we integrated working together as a team for Project Grayson on Mockingbird Lane was to add a chalkboard wall between both kids' bedrooms to create a chore list so the kids could stay organized and know precisely what was expected of them.
Less Is More
Instead of trying to fit every corner of your home with design, do more with less in the house. Not only is this easier to clean and maintain on a daily basis, but it helps create open spaces and areas for movement without something breaking. Again, being intentional is key, in the items you put into the room to create more style with less.
For example, in our Southcrest interior design project, our goal was to transform the upstairs game room from an unfinished, unused space to an area the whole family could enjoy. One of the most important parts was planning out the furniture and creating space to play games without bumping into each other. By using minimal furniture and game additions, we were able to create a functional space that worked well for the entire family.
Maintaining the Perfect Kid-Friendly Space
You don't have to reinvent the wheel when it comes to keeping your stylish home in shape while the kids are home for summer. Use what you already have in place, and make it work for you.
While the tips and tricks above are certainly going to help you on your way to organizational bliss, it's possible that enlisting a professional might be the way to go. Especially if the mini-humans have already invaded your space and made their presence known, then it might be time to call for backup. Don't panic! We're here for you.
We've had years of experience designing homes to be happier and more efficient throughout the Dallas-Ft. Worth metroplex. You can feel confident that our team will create a space that accurately fits your style and provide the solutions you need to make your life even easier. If you're ready to take action on your space, contact us today to get started.
Connect with our team of experts for your next design project - 
Let's Chat!