Yes, today's Monday Motivation will address something we all have – problems. Because how you frame your problems will determine your level of frustration, happiness, and even the ability to overcome said problems.
You cannot get away from problems. Small. Medium. Large. They are always present in life. It is how you frame problems that will determine your state of being. You can look at any sized problem as a catastrophe. A nuisance. A reason to get fussy. Do this and you'll find your outlook less than sunny.
Or you can look at problems as opportunities. A chance to re-evaluate what you're doing and to improve or overcome the situation. In my life, my biggest seasons of growth have come from problems. I just prefer to consider them "opportunities".
How do you deal with problems? Do you see the dilemma as it really is? Or do you over-react and then work harder to avoid the problem than you would addressing it? This is applicable in both personal and professional situations.
You can control your thoughts and how you perceive the problem. Step back and take the emotion out of the situation and see the problem how it really is – most people see problems worse than they actually are. Make sure you're not hungry or tired when you are analyzing the situation – that will ALWAYS make things seem worse. Sounds simple, but it's true.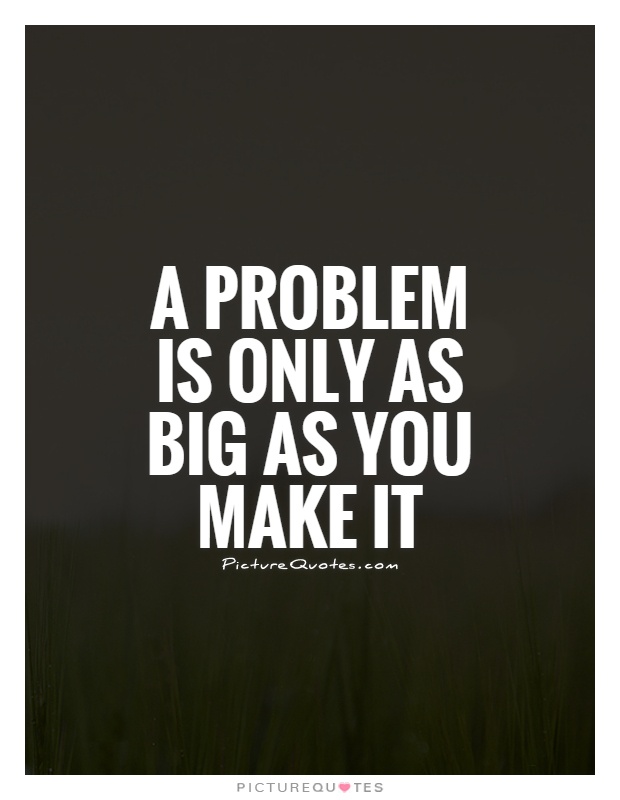 As you analyze any so called "problem", re-naming it as an "opportunity" immediately changes your mindset. You suddenly have something to look forward to. The chance to overcome this challenge (aka problem) and benefit from it.
This simple mental shift has many benefits. It immediately reduces the stress that accompanies any new complication. Because now this situation is less intimidating. Next, it puts this problem into context. Our mind will automatically start hunting for potential effects and responses to the problem, so recognizing this will allow you to break it down and analyze the steps to a solution easier.
By intentionally re-framing your problems, your mental strength will improve and you will experience self-growth. Just like training your body's muscles, you are training your brain muscle to form a positive cycle. It is not a "one and done" event, but rather a daily (or hourly) practice.
Try this: the next time a not-so-positive and unexpected situation arises (i.e. a problem) ask yourself:
Am I seeing this situation as it really is? Or worse than it is? First impressions are usually more negative than the situation may warrant. Is it really a problem? Or is it just a challenge?
Distance yourself. Step back and examine the situation. Review it as if it a friend was discussing THEIR problem – not yours. You'll take most of the emotion out of your way.
Ask yourself what you can learn from the problem? Is there something you can do next time to avoid a similar situation occurring? No matter what size the problem, if you can identify why it happened, you can avoid a similar instance in the future.
How can you solve the problem with the most beneficial outcome? Is there a way to overcome this obstacle and benefit from it? There is ALWAYS a silver lining. You just have to look for it.
Give this practice a shot today. Start with something small and build that brain muscle. I'd love to hear how you do!
XOXO,
Michelle Lynne